There's no doubt that food cooked on an outdoor griddle is delicious, whether it's seared restaurant-style hamburgers or fluffy pancakes. If you're reading this then you've probably enjoyed food cooked on a griddle and want to learn more about the best outdoor griddles but might not know where to begin.
When I first got into cooking with an outdoor griddle I was a little nervous and overwhelmed by how large the heating surface was. After a little time learning how to hook up the propane tanks and clean the griddle, I quickly mastered the basics after only a few days.
In this brief guide I'll teach you the basics of outdoor griddles from what I've learned over the years. Most of what you're going to learn comes with practice and it takes time to become acquainted with your outdoor griddle. Before you know it your friends and family will be standing around your griddle with the jaws dropped while you create that amazing culinary experience that only an outdoor griddle can provide.
---
This post may contain affiliate links. If you choose to purchase through an affiliate link, we may receive a small commission at no additional cost to you. You can see our full disclaimer here.
---
I've always enjoyed the flavor of foods cooked on an outdoor gas grill and when I bought my first outdoor gas griddle I couldn't believe how delicious the food tasted. The idea came to be after going to a Hibachi restaurant and I thought to myself, I could really use a Hibachi restaurant in my backyard.
All of my family and friends enjoy my unique style of cooking on griddles. I find that griddles give a distinct flavor that you can't find with any other style of cooking. It's the oldest and most popular style of cooking and for a good reason. The food just tastes so much better when cooked on a well-seasoned griddle.
With a gas grill you can only get so creative when cooking your food but with an outdoor gas griddle you can get really creative! Cooking Cajun style foods and being able to sauté, sear and flambé different foods that I would normally cook on the grill, gave it so much more texture and flavor.
I even purchased a great recipe book called The Official Backyard Hibachi Cookbook to learn some amazing recipes that I include here with a twist.
Best Standalone Outdoor Griddles
Blackstone
Gas Griddle Review
When the weather is nice, most of the cooking I do is on my 36″ Blackstone outdoor gas griddle grill. I enjoy cooking restaurant style foods and more than 90% of restaurants use griddles such as this one for cooking.
When you buy it comes unassembled and it takes about 10 minutes to put all the pieces together. It's recommended to assemble it outside because you might not be able to fit it out your door. The wheels make it easy to move around and since it's pretty heavy, weighing about 120 pounds.
The first thing you want to do before firing up your gas griddle grill and cooking some juicy hamburgers is to wash it with a drop of soap and water. Generally, you want to wash it the same way as for cast iron and using a chainmail scraper is one of the best ways to go. I looked online to see how most restaurants clean their griddles. I have a friend that works at a restaurant that has a large griddle and they use the same technique.
The Blackstone outdoor griddle comes with four burners, similar to a stovetop. In a couple of minutes the 769 square inches of cooking space heats up to 500 degrees F and it can take a while experimenting with how much oil you should add and the different heat settings. You really need a good spatula I found out after melting the one I owned.
The Blackstone 5 Piece Professional Grade Grill Griddle and BBQ Tool Kit is what I decided to go with and it's really high quality. These are professional grade restaurant style stainless steel spatulas that won't get damaged easily and I really like the chopper/ scraper that you can use to chop vegetables and scrap them all into a pile.
The thing I probably like most about the Blackstone outdoor griddle is the smell of the food. If you thought cooking on a grill smells good then wait until you cook on an outdoor griddle. It smells like you're in the kitchen of a fancy restaurant. The other thing that I really like is how quickly the food cooks. Sometimes cooking on a grill I can become impatient but with the outdoor griddle, you're always doing something because the surface gets so hot.
While I have not used any other brand of outdoor griddles I can say that this is the best griddle I have ever used. I'm a fan of cooking with electric griddles, cast iron griddles and nonstick griddles but the outdoor griddle is in a different league. The new propane grills have really gone up in price over the past few years and I'm sure more and more people will be turning to this option when they find out how good the food tastes.
Blackstone

Portable Griddle Review
I've never seen so many reviews where people say that they're in love with a griddle as much as this 17″ portable Blackstone. I'm usually not a big fan of the smaller griddles but I wanted to include this one on the list because I know many people don't cook for a lot of people. If you plan on cooking smaller meals or need a portable outdoor griddle, then this is the one.
After looking more closely at the pictures it's not as small as I thought. The design looks similar to the Blackstone outdoor griddle but about half the size and a fraction of the weight. It has a 17" x 15" cooking surface or 260 square inches, with 2 built-in propane burners with 12,000 BTU output. Designed to be more of a portable version of the Blackstone outdoor griddle.
After watching the video I think I will be getting this grill next. I read the reviews and a lot of people love this one for camping. The price is lower than I remember and I think I passed on this one a while ago because the price was too high. Now, it's much more affordable and I think I know what I'll be getting for Christmas this year.
Cuisinart –

Two Burner Portable Outdoor Griddle
The cooking surface of this Cuisinart griddle is made of cold rolled steel, which is the common cooking surface for most outdoor griddles. Having two burners means that you can heat this griddle quicker than others. You may want to get a thermometer because this griddle will get above 400 degrees and you can easily burn your food if you're not careful. This is heavier than most other griddles, weighing 30 pounds.
Is there anything negative to say about this griddle? Well, if this is anything like the quality of the Cusinenart portable grills then it's going to be one amazing outdoor griddle. I believe this is their first attempt at making outdoor griddles, so I might be hesitant before recommending it to anyone.
Best Outdoor Grill-Top Griddle Reviews
An outdoor griddle is a griddle that allows you to cook outside, either by using a propane flat top griddle or on an outdoor griddle cooking station. In order to select the right outdoor griddle for your grill, you should familiarize yourself with the different styles. If you already own a good gas grill then this may be a better option for you than the outdoor gas griddle.
While the term outdoor griddle may be a bit broad I suppose they could also be used for cooking over a fire as well. For this, a cast iron griddle is recommended however because using a stainless steel griddle can be unwise and the bottom can get damaged easily when exposed to an open flame.
The stainless steel outdoor griddle grill is one of the most popular options. Little Griddle is the top brand and has over 10 varieties of propane flat top griddles. These griddles are specifically designed to be use on gas grills and are made of 14 gauge stainless steel and steel
Camp Chef –
Outdoor Propane Griddle
I purchased this Camp Chef outdoor griddle for a camping trip we went on. I figured if the food tasted anything like the Blackstone then we would be in for a real treat. We brought along the Camp Chef 2-burner camp stove and a propane tank. This is by far my favorite camp stove that I own but I haven't taken it out of the garage in a few months, since I use the Blackstone outdoor gas to cook everything now.
The Camp Chef outdoor propane griddle doesn't really allow you to do much with the griddles. You can put a cast iron griddle or any other type of skillet and griddle on it to cook for. The best option is definitely the 3-burner size Camp Chef Professional griddle and while you don't need the camp chef grill it's recommended. I did try out the Camp Chef Professional Griddle at a friend's house for a BBQ and it worked amazingly well on his huge 8-burner gas grill.
The reason I really like this outdoor griddle is that it has the same style of steel as the outdoor gas griddle by Blackstone. It's super heavy and the flavor you get from it is nearly identical to the Blackstone.
Overall I would highly recommend this as the alternative to the Blackstone outdoor gas griddle. They come in a few different sizes and you should definitely measure the size of your grill before buying one.
Little Griddle –
Stainless Steel Griddle
Since I cook using a stainless steel griddle all the time, friends and family are constantly asking me which are the best. I have gotten a lot of requests to make this review of the outdoor grill griddles and I have not tried all of them out, so I thought I would spend a few days doing some research on the best outdoor griddles to see what I found.
One of the more affordable options when it comes to outside griddles is the Little Griddle series of a stainless steel propane flat top griddle. These are Universal griddles that fit on most standard propane grills and just about any other style of grill.
The temperature for these griddles are rated at 600 degrees F and that's higher than most griddles. Most restaurants use stainless steel for their griddles and they are designed similar to this one but a lot bigger. They say that cooking on stainless steel is safer and healthier than cooking on other materials but I can't be 100% sure.
This propane flat top griddle style of the griddle is one that I really like and I didn't decide to go with the Little Griddles, mainly because I like Big griddles. I did, however, watch a bunch of videos on youtube of this one in action and I'm really impressed.
If you're looking for a smaller outdoor griddle option then I believe this is the best one. It works on all different types of grills and gets really hot. I have eaten foods cooked on stainless steel griddles before and they are delicious.
Cast Iron
Reversible Griddle for Grill
In my review of the best stove top griddles, the Lodge brand was at the top of the list. I wanted to include it here as a great add-on for any grill. The oldest and most inexpensive option of the outdoor griddles is the cast iron griddle. I purchased the Lodge reversible 2 burner about 5 years ago and it still looks good as new. I must have used this griddle a hundred times and it's my favorite cast iron griddle.
The design of the griddle for grills is simple and nothing fancy. Lodge has been making cast iron products for over 100 years and they nailed it with this one. It's about 20" long, weighs 14 pounds and fits most conventional stovetops. The great thing about this one is that you can put it in the oven as well as put it on your grill.
Before getting my Blackstone outdoor griddle I tried using this on my grill a few times but it didn't produce the kind of results I like. It takes a very long time to heat up and it's so thick that it just doesn't get as hot as the super thin steel griddles. It's more difficult to cook on than the Blackstone outdoor griddle.
My favorite way to use this griddle is to cook with it on an open fire. We enjoy camping and this griddle makes a perfect camping griddle and it's what we always bring along to cook food on an open fire. It has enough area to cook for about 4 or 5 people. It takes a while to heat up but if you're camping, you don't really have any priorities other than eating, so you can spend the entire day cooking.
Overall, I'm not sure I would recommend this griddle to be used on an outdoor grill. It is, however, a fantastic outdoor griddle in the sense that it can be used over a fire if you are ever out of gas or electricity.
Best Outdoor Gas Griddle
There are two different styles of cooking on an outdoor griddle. The first is to use an outdoor gas griddle such as the Blackstone 36 inch Outdoor Gas Griddle. This is the first outdoor propane griddle I purchased to start my backyard Hibachi and it's probably the best outdoor gas griddle on the market. The Second style is to use your grill and place a stainless steel outdoor griddle on top of it.
This is the more popular option because they are much less expensive and you get to use your grill at the same time. What I really like most about these is that they are large enough to fit over your entire grill and they heat up really fast. They are easy to clean and the food once cooked on them tastes just as good as an outdoor propane griddle.
When I first came up with my backyard Hibachi idea a few years back, I spent countless hours looking at all of the outdoor gas griddles on the market. Today, there are quite a few more options available than a few years ago and it seems that I wasn't the only one to have the idea of using an outdoor gas griddle. Most people like the idea of outdoor gas griddles because they want to make hamburgers just the way you get them at a fast food restaurant.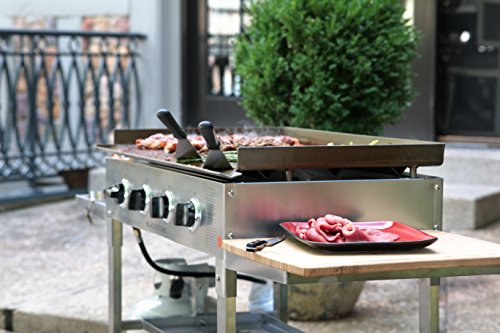 The flavor that you get from a griddle is far different from that of a grill. It's similar to cast iron because the seasonings become embedded into the steel, creating a unique flavor that you can't get any other way.
Blackstone has become the king of the outdoor gas griddle and for good reason. When I purchased my Outdoor Gas Griddle a few years back, the Blackstone outdoor griddle was much more expensive. Now, they have gone down in price quite a bit and more and more people are begging to try them out. They allow you to cook just about everything you can cook on a grill but there are so many other things you can cook that you can't on a grill.
If you have ever looked inside a fast food restaurant, you'll probably noticed the large griddles that they cook their hamburgers on. This is basically the same as the outdoor gas griddle. The top of the griddle is carbon steel, not stainless steel like the grill griddles. This makes your food taste quite a bit different from all other griddles and has more of a flavor consistent with cast iron griddles.
Outdoor Griddle
Tips and Tools
Cooking on an outdoor griddle is a bit different than cooking on a grill. For one thing, you're going to be using both of your hands more often than not. It's necessary to have two large spatulas, this way you avoid contaminating different foods. On one side of your griddle, you can use your spatula to flip pancakes and the other side can be used for hamburgers.
The next most important tool is the scraper or chopper and it can be used for two purposes. Scraping is a fine art that takes a little practice but I have no doubt that in a few short hours you'll get the hang of it and find out it can be quite fun. Scraping allows you to remove access particles and pieces of food that are left over from cooking, so that it doesn't mix with the other food you're cooking. Chopping is necessary when you're cooking vegetables and want to dice up some potatoes, broccoli, onions, etc to make them extra fine.
The last thing that you need in your toolkit will be an oil bottle. For a long time, I used the olive oil bottle that came with the olive oil when you but it. Then, I switched to a squeezable plastic bottle after seeing them use a similar one in a restaurant. The difference was night and day. The squeezable bottle allows you to get into tight nooks and crannies that simply pouring the oil can't. For a couple of dollars, I would definitely recommend this addition to your tool kit.
Maintaining

Your Outdoor Griddle
Cooking with an outdoor griddle grill is very similar to cooking with cast iron cookware. If you're not really familiar with cast iron, then I would difficulty recommend you read my guide on cooking and maintaining your cast iron to make it last. Similarly to cast iron, your outdoor griddles will get better with age as you season them.
The seasonings absorb into the steel and give a black color, maybe you have seen this when you go into restaurants. You will note that their griddles are not perfectly silver colored but have various colors. These colors are the seasonings soaked into the metal after thousands of hours of cooking, adding a distinct and unique flavor.
Rust is another factor that you need to learn a thing or two about. I can't tell you how many negative reviews I have seen for a griddle because someone says that it rusted. There are simple steps you can take to prevent your griddle from rusting. The easiest way to prevent rust is to season your griddle with oil. A light coat of olive oil before and after you are finished will prevent it from rusting. In all the years I have been cooking with griddles they have never once rusted. Simply avoid cleaning them with soap and you'll be fine.
Conclusion
If you're new to the idea of outdoor griddling then I would certainly recommend it. On a summer day there's no more fun than cooking for friends and family on a griddle.
Most people are familiar with grills and the wow factor just isn't there when you're cooking. However, with an outdoor griddle your family and friends will be amazed by your new super powers of creating the most delicious food they have ever tasted!