Choosing the Right Griddle
As you can see there are many different styles of griddles to choose from. I'm hoping that you learned a little bit about each different type. It can be a bit overwhelming at first to look at all the different types of griddles and not know which one you should use.
Each type of griddle has its own purpose and if you want to cook some truly amazing food, then you should think about getting a griddle of each variety.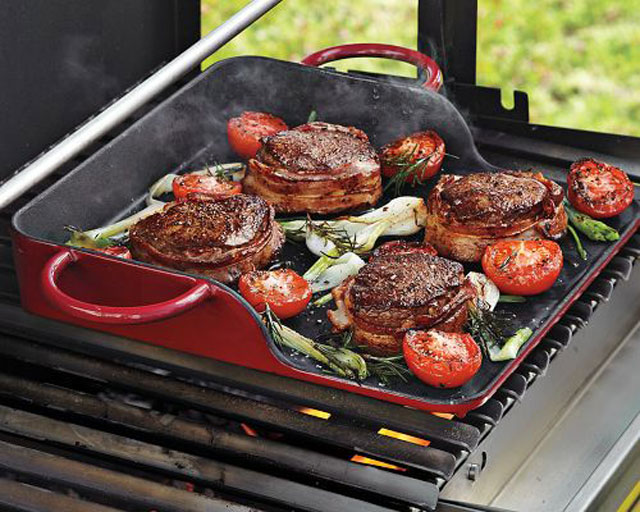 When looking into a specific griddle be sure to take in account how large it is, the price, quality, reviews and flavor. Whether it's an electric griddle or an outdoor griddle, you want to learn as much as possible about it before buying it.
Then, you need to spend even more time after that learning how to use it. Most of these griddles are simple to use and act just like a regular grill or pan, so I don't think you'll have much trouble using them.
Maintaining your Griddle
It's very important to take better care of your griddles than most other cookware. They can rust easily if you don't take care of them and maintaining them is pretty simple. At the end of each buyers guide I talk about simple tips to care for each different style of griddle.
Since many of them are made of cast iron or steel, you don't need to use much soap or they will rust. Also, I go over the tools you need to become a master of the griddle. Be sure to check out the different types of oils you should use as well. Different cooking surfaces need different oils to work best.
This is usually perfected by experimentation.
Conclusion
For years I have preferred the griddle over the grill. Most people have grills and it's easy to cook on the grill and doesn't require much work. You simply throw your food on the grill and wait for it to cook. A griddle on the other hand needs more skill in preparing and cooking the food.
You're rewarded with more flavor and more enjoyable cooking experience when using a griddle. The only question then becomes which type of griddle to get? Well, that's up to you and most of the recipes on this site can be cooked with any style of griddle.