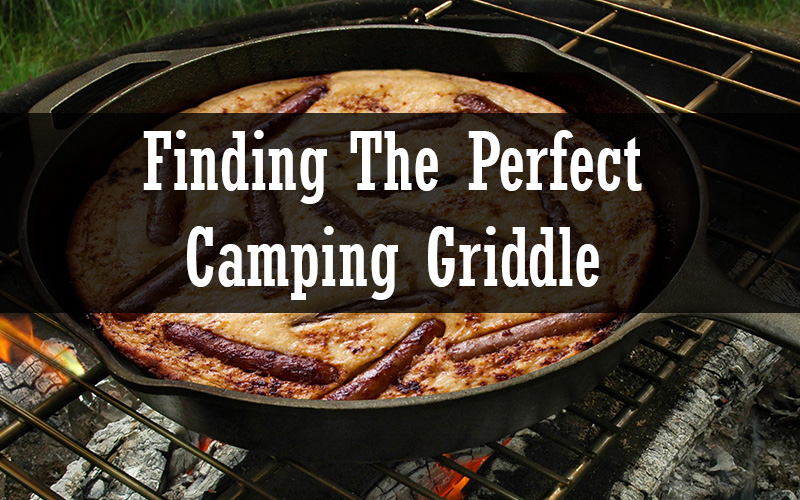 For those of you that enjoy camping like I do, one of the best things to do outdoor is cook. On just about every one of my experiences outdoors I use a griddle over a fire and the flavor is like nothing else. Maybe it's the smoke from the wood that gets into the food, maybe it's the peaceful atmosphere, but there's definitely something I like about cooking on a griddle when I go camping.
Some of the questions I've received from friends and family is what type of griddle to bring on a camping trip?
There are a few things you need to consider when finding the perfect camping griddle to take on your next trip – such as how many people do you plan to cook for and how close you will be to your car. You don't exactly want to lug around a 200 lb outdoor griddle and propane tank.
That's why we'll be looking at portable griddles that you can probably fit into a hiking backpack and toss on the fire for your evening meal.
Here's the way I enjoy cooking with a griddle when I'm using an open fire. If you haven't tried it yet then you're missing out because the flavor that you get is like nothing else on earth. Simply take a larger cast iron or steel griddle and place it several inches about the fire. Then, I place a smaller griddle pan on the griddle and usually throw in my eggs and vegetables.
I like to switch between the stainless steel griddle and the cast iron depending on where I'm going. If you intend to do some hiking or take your cooking supplies with you on a trip, then you should know that cast iron can break pretty easily if you drop it. The stainless steel is nearly indestructible and you could throw it off of a cliff and still use it.
Let's take a look at some portable griddles that make an ideal camping griddle.
This post may contain affiliate links. If you choose to purchase through an affiliate link, we may receive a small commission at no additional cost to you. You can see our full disclaimer here.
#1 Lodge Cast Iron Reversible Griddle
Coming in at the top of the list is the reversible griddle by Lodge. I have been an enthusiast of Lodge for many years and this was my 3rd griddle by Lodge. My list has grown quite a bit since I purchased this one several years back.
When I think of what a camp griddle should look like this is what I picture. It has a simple rectangular design and it's one of the best cast iron griddles ever made for an open fire. This one performs just as well for me as most of the other expensive ones that I own and the cooking surface (16.75 inch x 9.5 inch) is large enough for a few people.
I have taken this one with me on a few trips and it fits in my hiking backpack. After getting tired of lugging around a BBQ set everywhere I decided to use griddles and I've never looked back.
One side is ridged and the other is flat. Personally, I also use this one indoors a lot on the stovetop and it's amazing. Because it's well-seasoned, nothing sticks and the food is always ready in a few minutes.
In order to clean this one, you need to know a couple of tricks. Get the water as hot as you can, possibly by boiling some when you're cooking (if you're camping), then pour on the griddle and use a brush. This should kill just about all the bacteria and remove the excess oil from the griddle.
After you're done with that rub a little fresh oil on it and this will help keep it from rusting. The more times you do this, the better the food will taste.
#2 Chef King 7 Gauge Steel Griddle
Other than cast iron, the second best way to cook on the fire is a carbon steel griddle.
This is a heavy-duty griddle and makes a perfect camp griddle! One of the best things about steel is that once you season it, it's healthy to cook on and you don't have to worry about it breaking.
Chef King makes a wide variety of different size griddles and this one is a good size at 14″ x 23″. People always ask me where I got this one because they have never seen anything like it before.
The Chef King gives you more of the restaurant-style flavor because it's carbon steel that you season. It's perfect for throwing on a fire and gets very hot, very quickly. The handles are nice and fold down when you're cooking so they're out of the way.
The downside about this one is that it's not reversible with ridges like the lodge griddle. To be honest I don't really use the ridged side too often anyways.
Overall, if you've never cooked on an open fire with a large steel griddle like that one, you need to do it. The food is seriously restaurant quality and the Chef King has a great appearance.
#3 Lodge Combo Cooker
Yeah, yeah, so this isn't exactly a griddle. But it's perfect for camping and you can always use the skillet like a griddle pan.
If you want a pan set that will last for a 100 years then this is the one.
Before I knew about cast iron I used to use the nonstick teflon coated pans. After I learned how to cook with cast iron, I never looked back. The flavor of cooking on cast iron is just far superior.
The Lodge Combo Cooker was gifted to me quite a while ago and there's nothing else really like it. The shallow skillet pan fits on the deeper pan like a lid if you're cooking soup or steaming vegetables. The versatility is why I think this one makes a perfect camping griddle.
You can use the skillet like a griddle on top of a grate over the fire, or just put the whole set on some coals and make a nice stew. You can also use the smaller pan to cook a couple of eggs. If you like making soups, then you definitely need to give this one a try.
#4 Lodge Cast Iron Cook-It-All
I really can't help myself from recommending Lodge products. They just GET outdoor cooking… as evidenced by the amazing Cook-It-All cooking set.
Why would this make a good camping griddle you might be wondering? Well… it's a 14″ round reversible griddle that comes with removable handles. Let me tell you, that's BIG. Plenty of room for eggs and bacon on the griddle over a campfire in the morning!
Along with the large 'wok' pan, it's perfect for cooking just about everything you could possibly want to eat on a camping trip with a group.
Now, the downside is that this set weighs in at about 30 pounds. That's a lot of weight, and you probably don't want to lug it along on a backpacking trip many miles into the wilderness (I would definitely choose the Chef King steel griddle in that case).
You can do just about everything when it comes to camp cooking and griddling with this set, and I'm pretty sure it will be the best food you've ever had in your life!
Tips For Using Your Camping Griddle
If you plan on cooking on an open fire, you should make sure to build a small fire. Usually what I like to do is chop the wood into small pieces and when the fire gets going, toss the griddle a few inches above the flame. Not too different from cooking on a range stove top.
Always keep a close eye on your food when you're cooking over a fire that you made because it will always cook differently, since the heat is not the same as a stove top. Sometimes your food might be done in a few minutes and other times I've sat there for quite a while.
As I mentioned earlier, cleaning can be a bit tricky when you're out in the wilderness, especially if you're using a steel griddle. When I use cast Iron, oftentimes I don't really clean when I'm finished. Simply use a paper towel or a rag to wipe off your griddle and you're good to go. Maybe add a little bit of oil as well to help prevent rust.
Last but not least, don't forget to have fun! Every time I go out camping with friends, family or by myself I love cooking. I stayed at a cabin one time for a couple of weeks that didn't have electricity and I used my good old Lodge griddle pans and a fire pit to cook the food. That is honestly what I remember most about the trip because the food tasted sooooo good!